2021 Color and Design Trends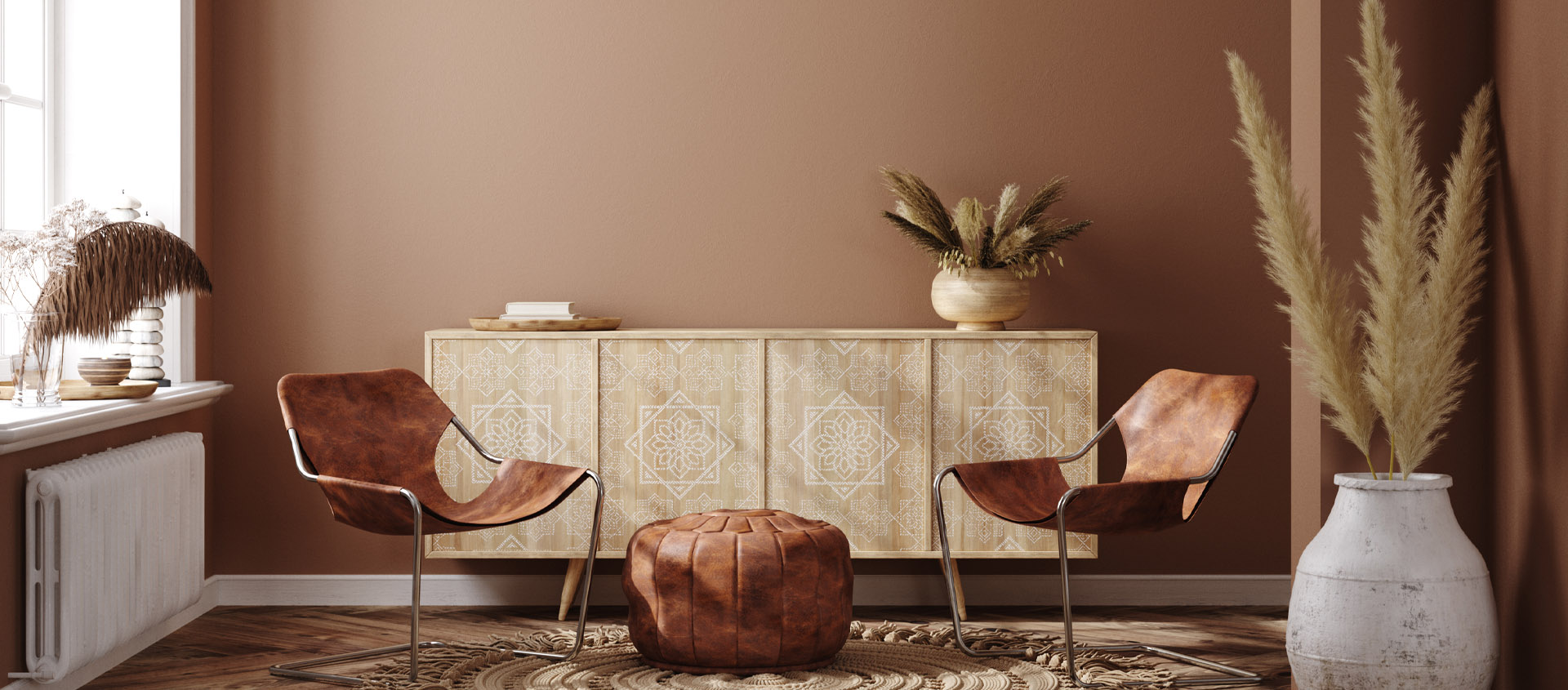 As we transition into the new year, we bring in the new trends of colour and design. After a year that resulted in many of us spending more time at home, we can transform them to bring us more comfort and joy, and to better fit our new style and needs. And if you're looking to purchase a new home, you have the opportunity to include the most up-to-date trends in your décor and finishes. Join us as we take you through the trends of 2021 - we hope you gain some inspiration for your new home!
Colour Trends
This year focuses on warm and comforting hues as your base, typically in the tan-brown family with orange and pink undertones that add richness to the home. Pops of colour will focus on soft aqua blues, giving a slightly beachy feel without stepping over into the full coastal vibe (think desert meets ocean), creating a calm and soothing aesthetic.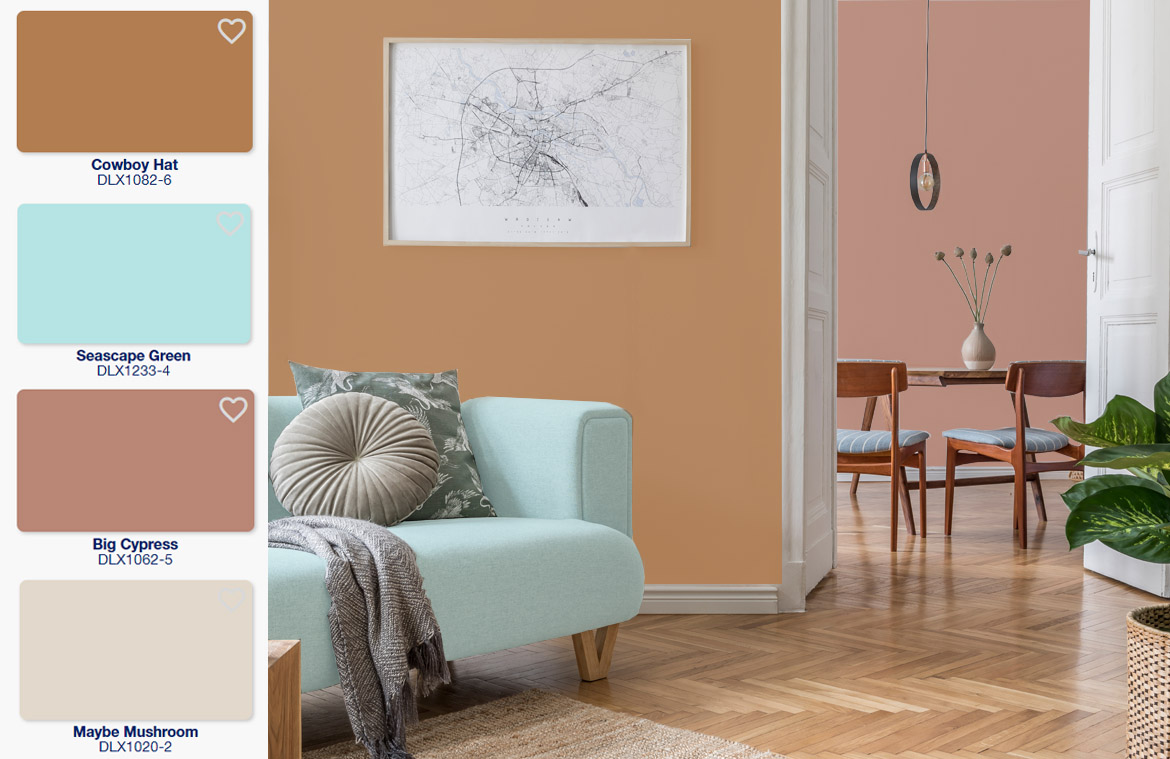 If blue isn't the colour for you, another option that will be popular in 2021 is deep, dusty mauves or rich greens. While they'll bring a completely different look to your space, both options focus on warmth and will bring a calming feel to the space.
The great thing about paint is that it is easy enough to apply and you can change or update it over the years. There is an endless amount of options available, so you're sure to find something that you love. Take a look at what Dulux has to offer, and utilize their Paint Colour Visualizer to try the colour out in your space!
*Colours shown above are from
Dulux Paint
*
Layout & Amenities
A big focus this year is the ability to accommodate the balance between family life and working remotely, all under the same roof. A home office space has become an important amenity and many new home layouts are completed with versatile spaces that can be used for just that. Whether it is a main floor den, a second-floor loft, or a spare bedroom, it is easy to use any of these spaces as a home office. You can take a look at our new home plans to get a feel of which would work for you and your family.
If you currently own a home that doesn't have an extra space to spare, consider rearranging a room to accommodate what you would need as a home office. There are a lot of options available, whether it is setting it up in the corner of your living room or even converting a closet to be a small office space, we're sure you'll find something that works in your current home. If you need some inspiration, check out some ideas
here
.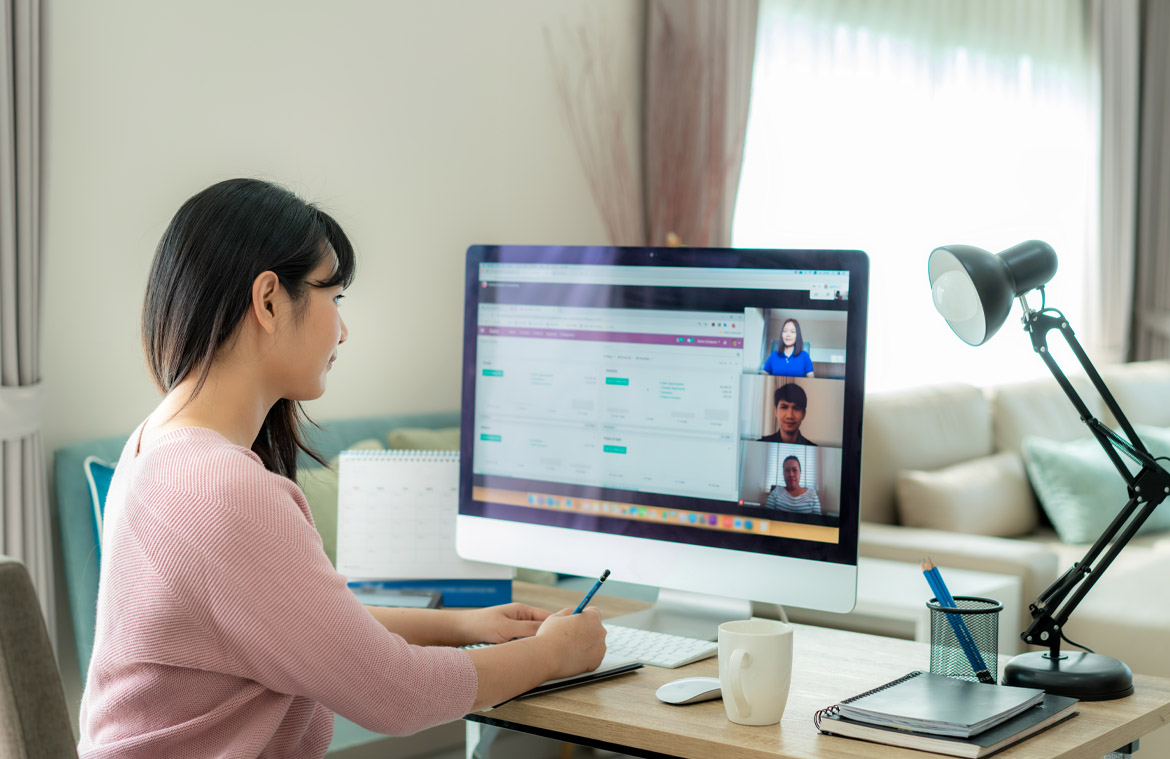 Another factor that has become important over the past year is having a big enough common space for your family to utilize together without tripping over each other. An open concept living area is a great place to start, providing different areas that are open to one another, allowing everyone to do their own thing while still spending time together as a family. If you'd like more separate spaces, a second-floor loft is a good option for the kids to utilize while you have the main floor common areas to yourself. If you have a bungalow or just prefer that style of home, developing the lower level will provide more than enough space for an additional entertainment area.
Design & Décor
While the layout of your home is the most important factor, the interior design selections and decorating of your home may just be the most exciting part. Better yet, your décor style can evolve with you over time by simply changing out or adding pieces as you go. Whether you are building your new home or looking to change up your current style, here are some of our favorite décor trends that 2021 is bringing into the spotlight.
Statement Ceramic Tile
Bold ceramic tile backsplashes started to show up in homes a few years ago, however they have been gaining popularity and are now all the rage. Whether you're adding a section of it to stand out against a neutral tile or taking the plunge with an all-over statement tile, the end result will create a bold appeal that draws attention in your space.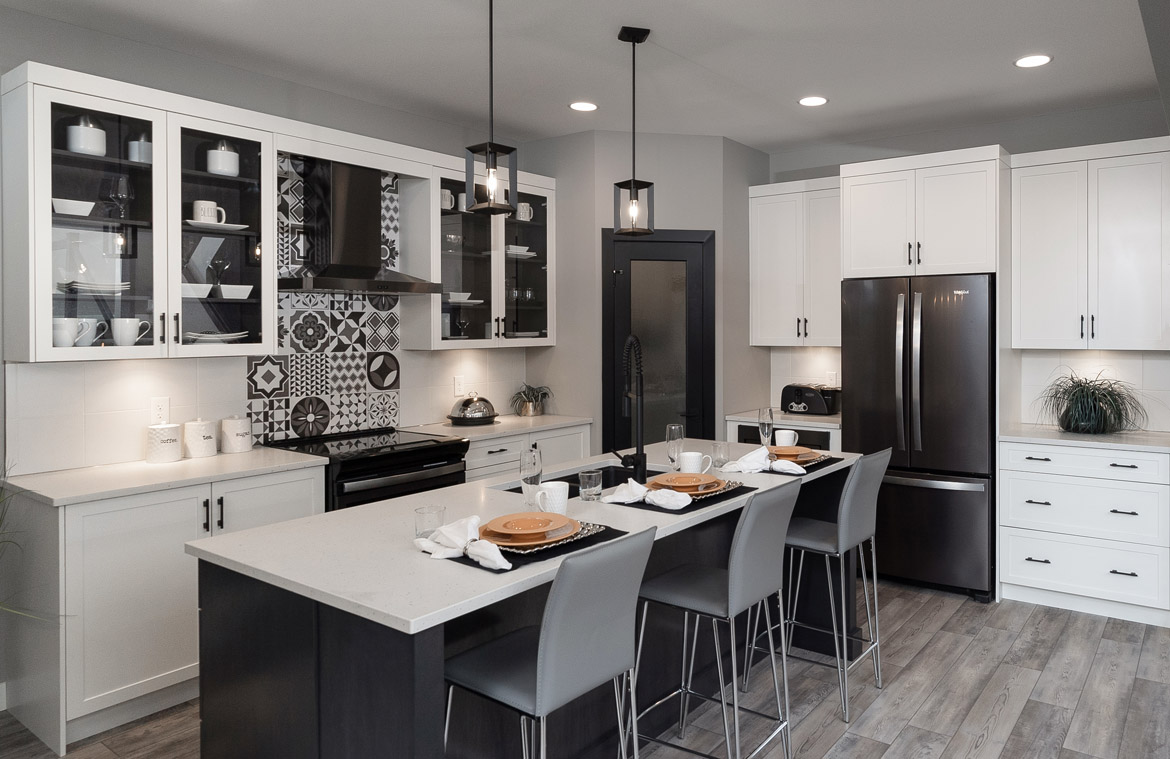 Coloured Cabinetry
Going along with the colour trends of 2021 mentioned earlier, cabinets finished in soft blues and muted greens are becoming the next big thing to be used in kitchens. Whether you want to add a statement in your island or a section of wall cabinets, or go all out for all of your cabinetry, the soft tones of these colours will create interest without going into the super-bold realm (think back to the red kitchen cabinets). Muted and deeper shades of green are a great option because of their undertones, allowing them to be used in both cool and warm décor settings, depending on which you prefer.
Brass Elements
Brass and gold were previously in style in the 90's, but over the years the finishes have been updated to give a more modern appeal and are now a sought after accent. If you don't want to take the plunge into the more permanent fixtures such as faucets and cabinet hardware, you can easily add gold accents within your décor. Whether you incorporate gold picture frames, a lamp or table accent, it's easy to add these pieces to your current décor as they easily compliment a range of colours. If you want to join the gold trend, we suggest steering clear of a polished finish and instead opt for a brushed brass. This will keep you from jumping back into the 90's aesthetic.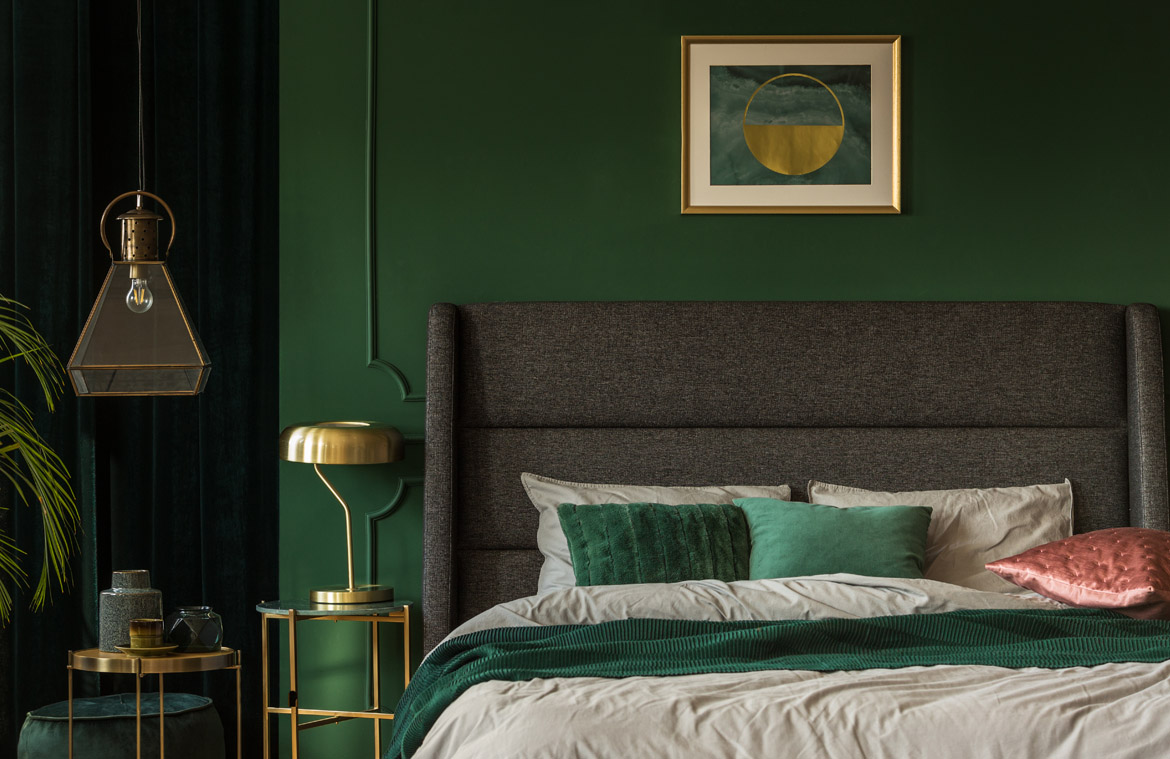 Textured Walls
When we think of textured walls, often our minds go back to the use of plaster, laid on top of laths (or slats) of wood. Plaster can still be found in older homes throughout the city, and while the imperfect application of plaster adds the character many people are looking to bring back, we don't need to install complete lath and plaster walls to achieve the look. Besides, textured walls have evolved over the years and now have a modernized appeal that we will enjoy for years to come. Consider using plaster overtop of your drywall or installing wallpaper that mimics the look. It will create less work overall, and if you decide to go the wallpaper route, some brands offer a peel-and-stick version, making it easily removable if you change your mind.
Wood Accents
Going along with the warm tone theme, natural wood accents are the perfect addition that will complement the warm and welcoming appeal of your home. You can easily use wood through décor pieces such as a natural wood bowl or a floating picture shelf. However one of our favorite ways to incorporate wood is in your furniture. Coffee tables are an easy addition, but if you want to create a true feature piece we suggest a natural wood dining room table. This will become the centre of focus in your eating area, giving a rustic yet home-y aesthetic that you'll love to utilize every day.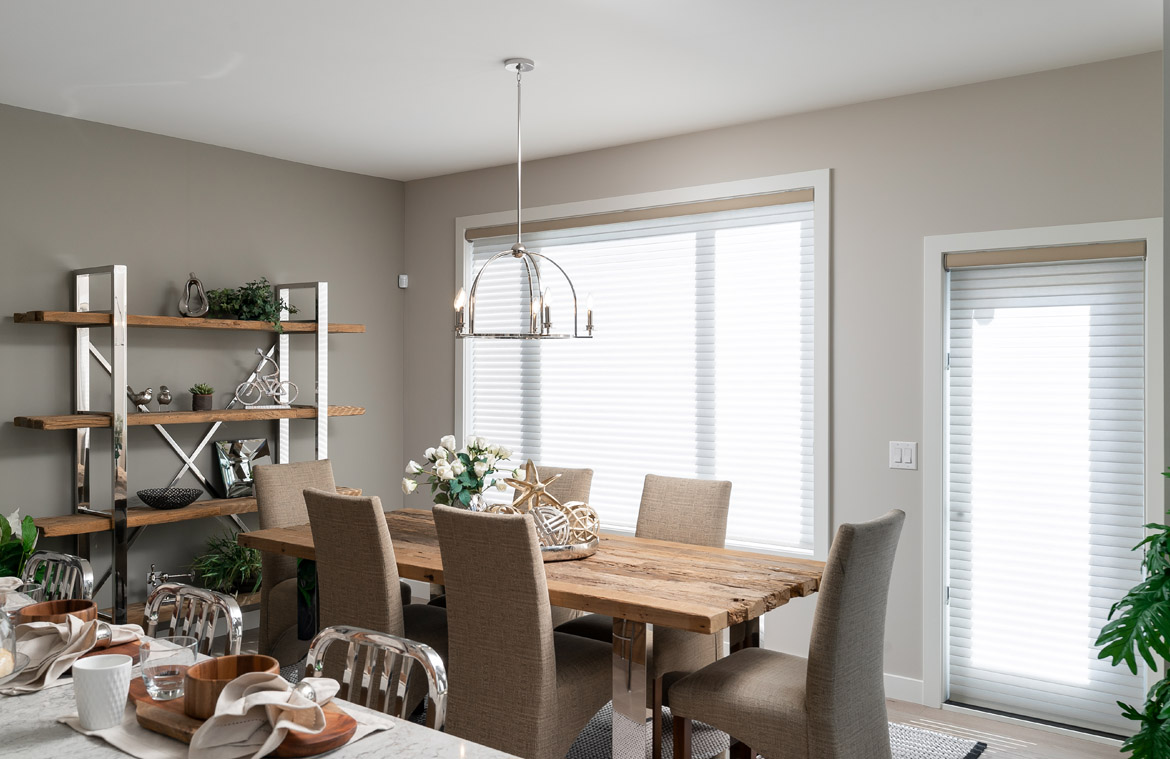 While we love to bring in the new year with a fresh outlook on design and décor, keep in mind that the trends of last year won't automatically go out of style this year just as the trends of 2021 aren't thrown out the window come January first. If you love the new look that this year is bringing as much as we do, it'll be a hit for a long time to come!