Building Your New Home
There's more to the building process than meets the eye. Between choosing the perfect lot and plan, through to the completion of your home, there are various steps that will be taken to complete the building process. Everything from drafting the drawings, excavating your lot, to framing and roughing in electrical and plumbing, we'll guide you through the step-by-step process so you won't miss a beat!

Discover What We Have To Offer
With over 30 home layouts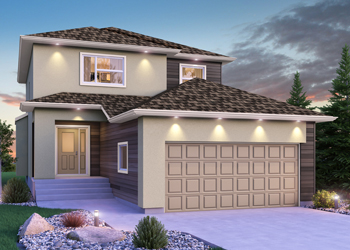 available to review on our website and multiple show homes in communities across Winnipeg and area, Broadview has something for every lifestyle. Use our website to search by home styles, home size, and even community to determine which plan is right for you, and visit our show homes to speak with our knowledgeable New Home Sales Consultants.
Work with our experienced New Home Sales Consultants to choose the perfect home that meets your lifestyle, your needs and your budget. They can help you make the final decision on your desired floor plan, and can help you decide which community or lot you'd like to build on.
You're now ready to write an agreement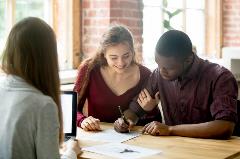 to purchase. Working closely with your chosen New Home Sales Consultant, you will submit an offer to build (or purchase) a home. This contract will outline any conditions or limitations, and will outline any alterations you would like to make to the chosen floor plans to personalize your home. Upon acceptance of the agreement and removal of conditions, we are ready to move forward!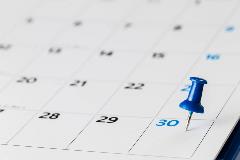 You can begin making any modifications to your chosen floor plan to personalize it to your tastes and preferences. After the removal of conditions, you will participate in a scheduled meeting with your New Home Sales Consultant referred to as your plan modification date. The purpose of this meeting is to finalize any changes or alterations that affect your home build. This is a check-point to ensure that both the home buyer and the home builder are on the same page, and that there will be no additional changes.
All desired changes to your floor plan, or any changes that affect the layout, electrical or plumbing specifications of your home must be submitted prior to your plan modification date.
With all your changes in tow, our talented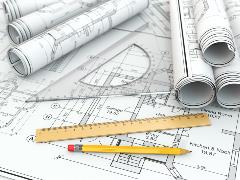 team of drafters will create final drawings for your home. These plans must be finalized, approved and submitted to the local building permit office for review. The plans are also subject to architectural review based on developer guidelines in your chosen community.
Construction of your new home can proceed only with the issue of a building permit.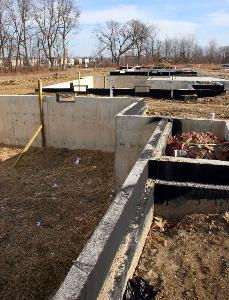 The construction begins! First, your new home's foundation will be excavated. Then, basement concrete footings and piles (if applicable) are poured. Finally, foundation walls are poured and damp-proofed.
One of the many advantages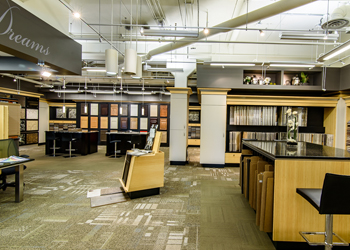 of working with Qualico is our 4,000 sq. ft. designQ featuring modern new products and innovations for designing your new home! Paired with one of our Certified Design Consultants, your personalized consultation gives you the opportunity to make both interior (cabinets, countertops, flooring, etc.) and exterior (shingles, siding, stone, stucco, etc.) selections for your home.
To make the most of your 3-hour consultation, we suggest attending one or more of our
designQ Open Houses,
every Thursday from 9a.m. - 4p.m.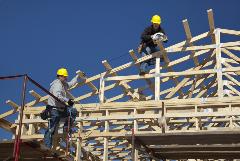 At this stage, exterior walls, interior partitions and the roof are constructed and assembled. Walls are built on the floor one at a time and lifted into place. Windows and doors are installed as well. It's at this stage that your home starts to look real.
Shingles are installed onto the roof, and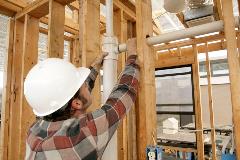 electrical and plumbing services are roughed in. Utilities such as water, electricity, telephone and cable will also be brought in at this time. A City of Winnipeg 'All Trades Inspection' covering structural, electrical and plumbing occurs during this stage to ensure that everything is being completed in line with all necessary building codes and regulations.
Drywalling, Mudding and Sanding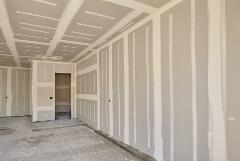 There is a lot going on in your home. The roof and exterior walls are insulated, a vapour barrier is applied and an inspection from the City of Winnipeg occurs. The drywall is installed and finished. The heating systems, including a fireplace where applicable, are installed and depending on weather/frost conditions, the basement floor will be poured.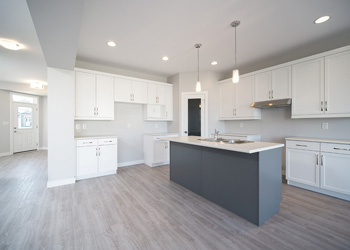 We're so close now! During this stage, interior doors are hung, walls and ceilings are painted and the flooring is laid. Plumbing and electrical fixtures are installed and the trim is applied. Kitchen and bathroom cabinets are installed as well.
We're almost there! A Homeowner Orientation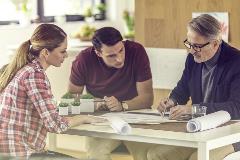 with your Site Supervisor will take place at your new home prior to possession. At this meeting, you will have the opportunity to inspect it, and to learn about the care and maintenance of it's many important components. The orientation is an exciting time; it is the very first moment you will walk through the front door of your brand new finished home!
After some necessary paperwork with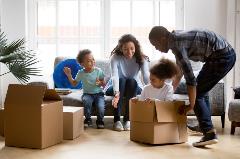 your lawyer, you will receive copies of the required documents and the keys to your new home. Congratulations, you are the new owner of a brand new Broadview Home!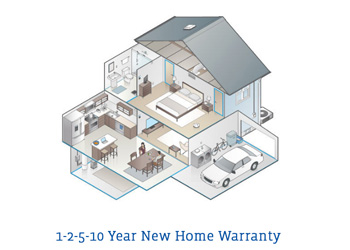 While we aim for perfection in every build, we know that from time to time issues will arise. With Broadview Homes you can rest assured knowing that your home is covered by an industry leading 1-2-5-10 year new home warranty program. With a full staff of onsite warranty personnel, a Quality Control Manager and a direct line to a dedicated Warranty Administrator who will personally handle all your claims, our after possession care is sure to help resolve any issues that may arise.