Bold Features in Today's Homes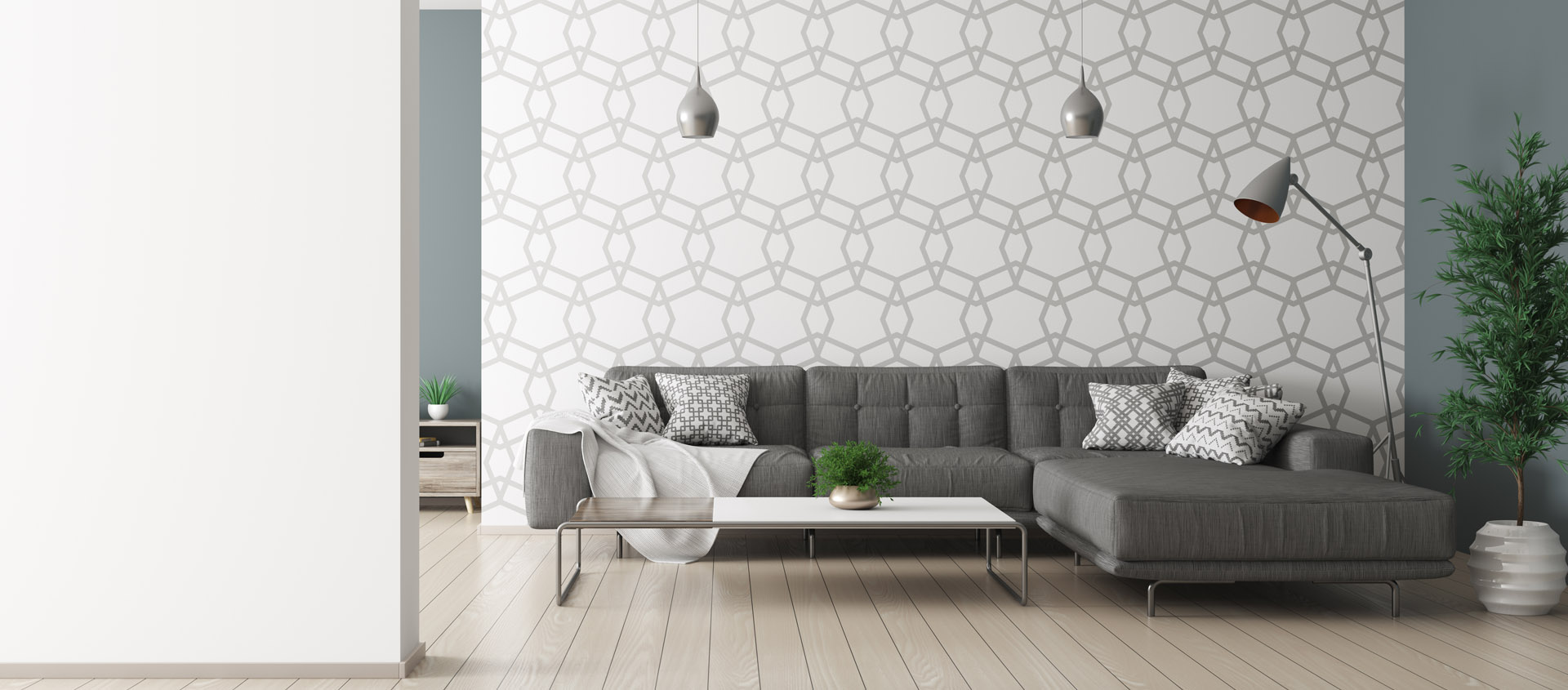 As with everything, the styles in home design and décor tend to evolve over time. Adding bold features and accents throughout your home has been a popular trend for the last few years, and we're in full support of jumping on this bandwagon! Whether you're looking to add stop-you-in-you-tracks curb appeal or liven up the inside of your home, these bold features are sure to grab your attention and you'll love them for years to come.
Exterior Appeal
We all know first impressions are important, and while they're not the be-all, end-all of a home's appeal, it's nice to make a lasting impression before stepping foot through the door. Some of our favorite bold features in exteriors are angled roof lines, stellar stonework and, a less permanent solution, bright coloured exterior doors.
Angled Roof Lines
A welcomed feature that adds a bold twist to the modern exterior of a home is the use of angled roof lines. They can be utilized on almost any style of home, and whether you have one section of an angled roof line or multiple sections, it's sure to be a noticeable feature that differentiates your home from the others on the block. Our Preston model is shown here.
Another fun mentionable in this category is a bold parapet. This feature typically adds height to the main level on a 2-storey home and gives more visual separation between the levels. While it is currently used more often for aesthetic purposes rather than functionality, it definitely captures attention! Our Monticello model is a good representation of this.
Stellar Stonework
Having stonework on the exterior of your home not only catches the eye, but it also gives an upscale appeal that is loved by many. Whether you choose to add a little or a lot, the benefit of both will be that your home has that extra punch of detail and curb appeal. If you really want to step it up in bold design, consider adding tall wall stone detailing or surround the front door with stone! We're sure you'll love the effect.
Painted Exterior Doors
A simple way to add a bold appeal to the exterior of your home, and something you can easily change, is to paint your front door or overhead garage door. You can really make a statement by choosing a bright colour and it will liven up the exterior of your home.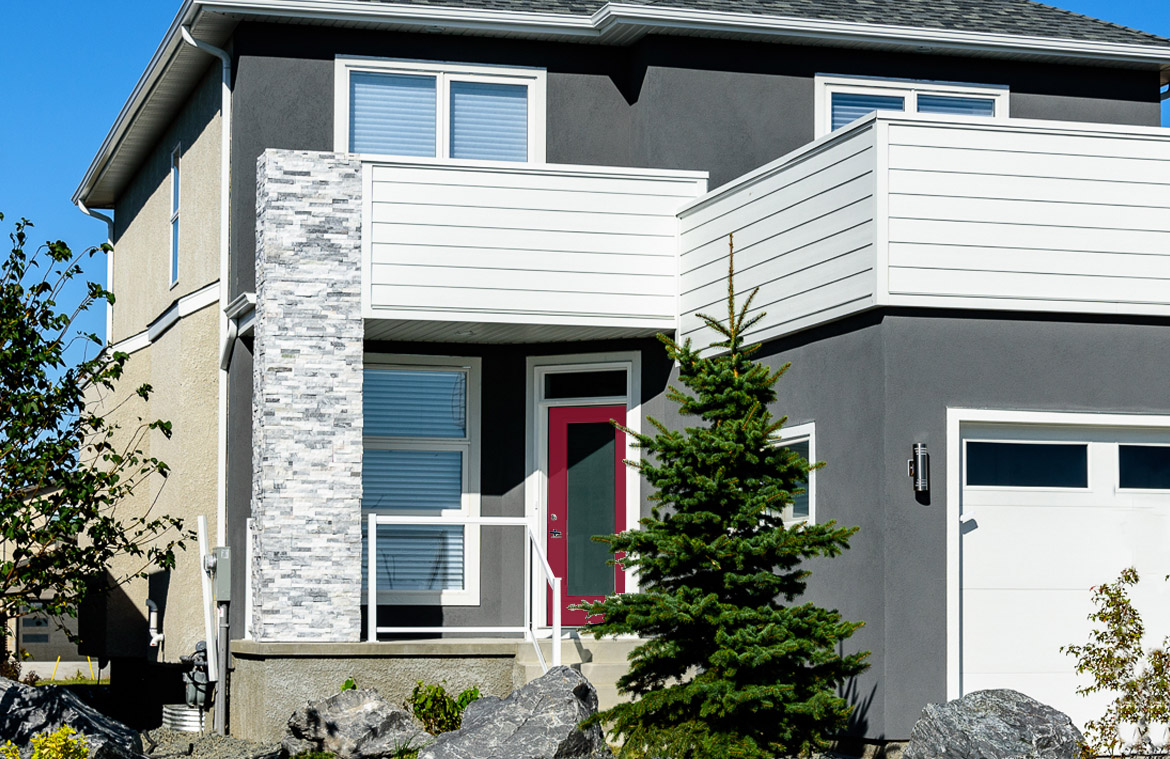 Interior Features
For many, the interior of your home is the most exciting part to really make it your own and reflect your style. There are so many options when it comes to the finishes that can add a bold appeal. Between cabinets, paint colours, lighting and so much more, there's endless opportunity to add bold features throughout! Our top-of-the-list picks are patterned ceramic tile, feature walls, statement lighting and ceiling features.
Patterned Ceramic Tile
Ceramic tile is a common feature in homes today, whether you're using it as your flooring or on the walls as a backsplash. And while it is a popular option, you can create a unique and bold look with the tile that you choose. Our favorite is patchwork tile, which takes a variety of different patterned tiles and installs them side-by-side, creating a unique feature that will grab the attention of anyone entering the room. Another great benefit of patchwork tile is that you can easily make it your own – just switch up the pattern or choose tiles that you love. The beauty in this is that your tiles don't necessarily need to match or have a common theme, however we do suggest sticking to a colour palette of your choosing.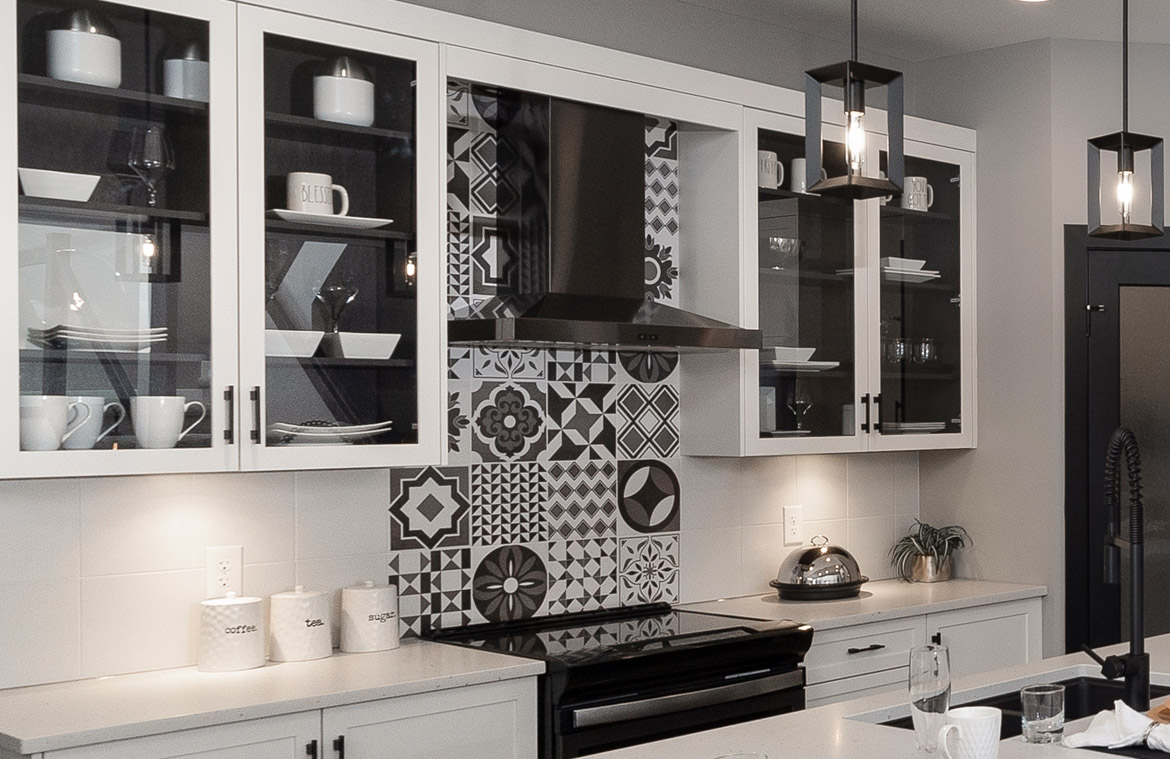 Not-Your-Average Feature Wall
Feature walls have come a long way over the years, and we still love a good painted feature wall. However, there are many options available these days that take your space to the next level. If you're looking for a less permanent solution, there is a lot that you can do with paint and a sponge. Just cut your sponge to the shape you want, figure out your pattern and get to work! Check this out for some fun ideas that will add a bold twist to your home. Another easy option is to use peel-and-stick wallpaper. You can get a fun design that is easy to remove if you ever change your mind. The last that we'll mention is wall panels - you'll just need to cut them to size and tack them to the wall. Home Depot has a variety of options available, however a quick Google search is sure to find you something you love.
Statement Lighting
Gone are the days of using dome or track lighting in the common areas of your home, and we happily welcome statement lighting in their place! Take advantage of the areas where you can use hanging fixtures, such as above the dining room table or kitchen island. We also recommend choosing something that has length, elongating that area and drawing the eyes upward. Our favorites have multiple hanging bulbs, globe-style pendants, or an LED pendant. With so many options available, you're bound to find something you love.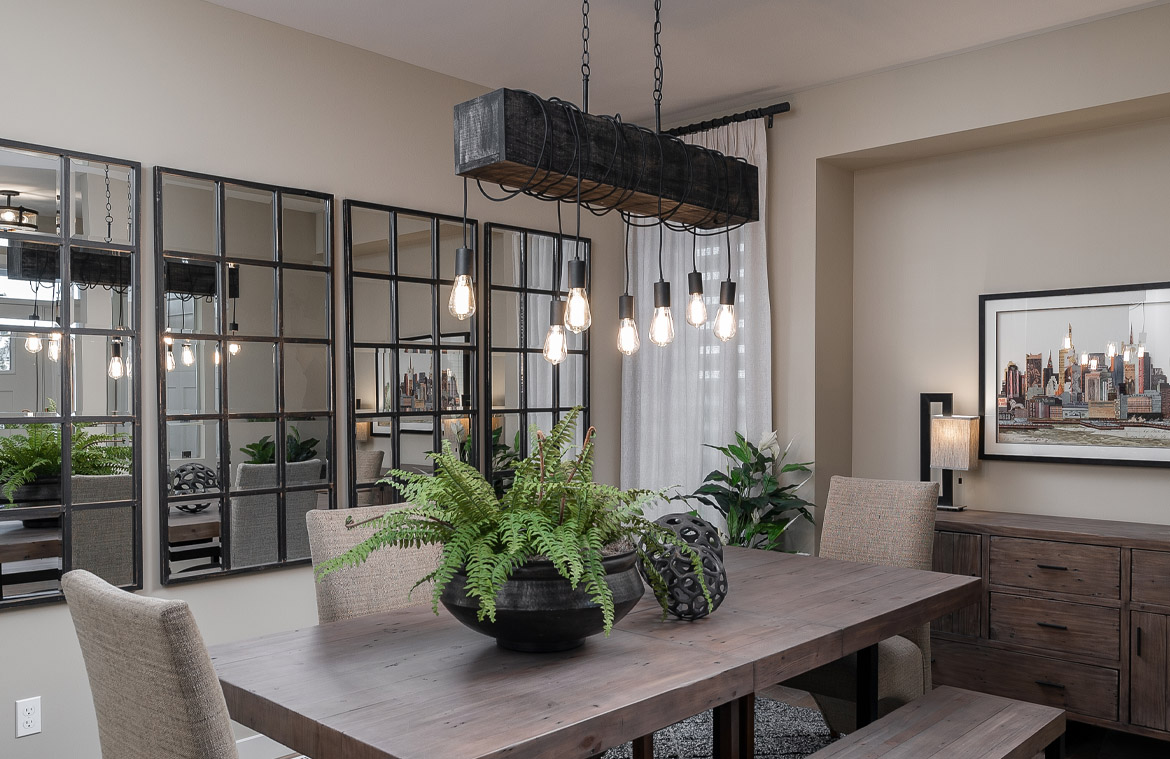 Ceiling Features
An area that we wouldn't think to add a feature to is our ceilings. They're typically painted a light colour to open the space and keep it bright, however painting them a darker shade, adding a coffered effect, or using wallpaper creates a unique appeal and gives the entire room a bold aesthetic.
How to Make Them Work
It truly is simple to make bold designs work in your home, and as long as you love it, that's all that matters. However, our biggest tip to incorporating a bold feature is to make it your statement piece, whether it is a feature wall, tile or even a piece of decor. Keep the other accents throughout the space minimal or more neutral in colour.
Having bold accents in your home is a fun way to liven up your space. The choice between adding a permanent feature or something that is easily changed is up to you, however no matter which direction you take, we're certain you'll love the result!