Home Maintenance & Warranty Guide
Last updated April 14, 2020
Electrical
Electrical fixtures are covered by Broadview warranty for 1 year. Electrical delivery and distribution components are covered for 2 years.
Breakers: Re-setting Tripped Breakers
When electrical outlets or appliances fail to work, it may be necessary to reset a circuit breaker. The cause may be:
An appliance that draws too much power, such as vacuums, microwaves and washing machines.
Starting an electric motor. Motors require more current to start up than to operate.
An overloaded circuit; too many appliances in use on one circuit.
A short circuit resulting from the use of a worn cord or defective plug.
How to reset a breaker:
First, find the cause of the problem and correct it.
Find the breaker that has tripped on the electrical panel. Move the breaker to the off position to reset it, and then turn it back on.
If this does not correct the problem, or you know that a short circuit was the cause, contact Broadview Warranty within working hours. If it is an after hours emergency or past the 2-year warranty period, contact your home's licensed electrician.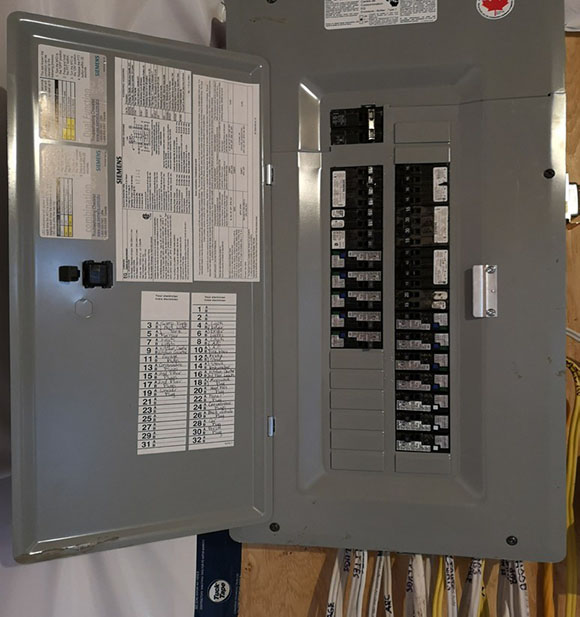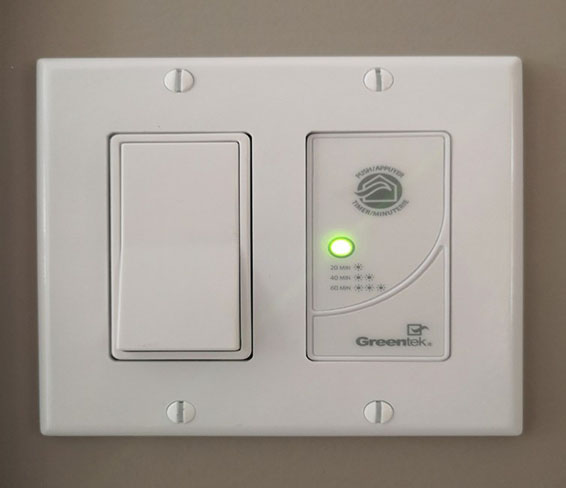 Electrical Panel
The electrical panel in your home is 100 Amp, unless otherwise stated in your Offer to Purchase.
Exhaust Fan and Bathroom Wall Timer
Turn bathroom exhaust fans on before, during and after bathing or showering to remove moist air by pressing the timer button. Holding the timer button will cause it to blink once for 20 minutes, twice for 40 minutes or 3 times for 60 minutes.

The bathroom exhaust works by engaging the HRV unit and exchanging the humid bathroom air for drier outside air.
All bathroom exhaust fans are tied together and turning on one fan will engage them all. All fans can be turned off by pressing the timer button on any bathroom panel.
Exterior Plugs
The Province of Manitoba Electrical Code requires all exterior electrical plugs to have ground fault breakers. Due to this, these outlets are very sensitive to:
Any imperfections in a cord.
Overloading, e.g. block heaters and space heaters.
Any moisture collecting in or around the plug.
All exterior plugs are hardwired together and only one plug has a reset button. This reset button resets them all.
Front Entry Soffit Plug
The electrical plug in the front entry soffit is referred to as a Christmas light plug, and is controlled by a switch located at the entrance switch panel, or inside the entrance closet.
Interior Plugs
All interior plugs are tamper resistant and have a built-in shutter system for safety that prevents anything from going in to just one receptacle hole. Be sure to apply equal and consistent pressure when plugging in appliances or they may not want to go in. The shutters will only open if two prongs are going in at the same time.
Plugs: Bathroom GFCI
Electrical plugs in the bathrooms are all ground fault circuit interrupted (GFCI) and are all hardwired to one bathroom plug with a reset button. This means that if a plug in any of the bathrooms is interrupted, it will trip the reset button and all bathroom plugs will cease to work. All bathroom plugs will resume working when the one reset button is pressed.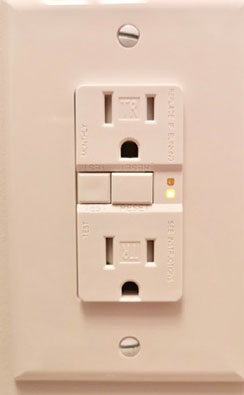 Plugs: Bedroom
Electrical plugs in the bedrooms are on an arc fault circuit interrupter that disconnects power when hazardous electrical arcs are detected. Because of this, bedroom plugs are extra sensitive and certain appliances, like high-powered vacuum cleaners, will trip the breaker. This is not an electrical error and these types of appliances will need to run on a separate circuit, like a hallway plug.
Plugs: Kitchen GFCI
Electrical plugs in the kitchen are all ground fault circuit interrupted (GFCI) and are all hardwired to one kitchen plug with a reset button. If any of the plugs stop working, press the one reset button and all kitchen plugs will resume working.
Kitchen plugs are divided between 3 circuits. One is for the refrigerator, and two are for outer plugs. No two major appliances should be used simultaneously on one circuit. Kitchen plugs at counter height are wired so that no two adjacent plugs are on the same circuit.
Plug: Living Room Plug and Switch
If one plug of an electrical outlet in the living room or great room is not functioning, it is most likely a switch plug. This plug is tied to a wall switch and is designed for table and floor lamps. Typically the top half of the outlet is tied to a switch and the bottom half has constant power.
Smoke and CO Detectors
The smoke and carbon monoxide detectors in your home are all hardwired together, as well as individually backed up by battery. Hardwired means that when one detector is triggered, all detectors in the home will sound. They are also battery backed to ensure they still operate in the event of a power outage.
If your detector is beeping, the batteries likely need replacing. This is a part of regular homeowner maintenance.
Your attached garage is equipped with a heat detector that is hard wired to other detectors in the home.
Most smoke and CO detectors are supplied by Kidde and can be found by searching your detector's model number on their website at https://www.kidde.com/home-safety/en/us/support/help-center/find-products-documents/.
Do not allow an amateur to alter the wiring in your home. Any wiring done by a non-licensed electrician will void your warranty coverage