Home Maintenance & Warranty Guide
Last updated April 14, 2020
Plumbing
All plumbing fixtures are covered by Broadview warranty for first year, and Moen plumbing fixtures carry a Limited Lifetime Warranty through the manufacturer. Plumbing delivery and distribution components are covered for 2 years. Hot water tanks are backed by a Manufacturer's extended warranty and must be registered within 90 days of possession.
Registering Your Hot Water Tank
Register your hot water tank with the manufacturer for extended warranty:
For Rheem hot water tanks: https://www.rheem.com/warranties
For Bradford White hot water tanks: https://warrantycenter.bradfordwhite.com/
Exterior Faucets
The lawn service (exterior faucet) shut offs can be found in the ceiling/joist area of the basement close to where the faucet is located outside. Most homes will have two.
In the fall, your lawn services should be shut off and drained. To properly drain the lines, turn the red shut off levers to the perpendicular "off" position, and thread open the bleeder screw next to it as demonstrated below. Remove any hoses and open exterior faucets until they have all finished draining. Lastly, be sure to rethread the bleeder screw closed.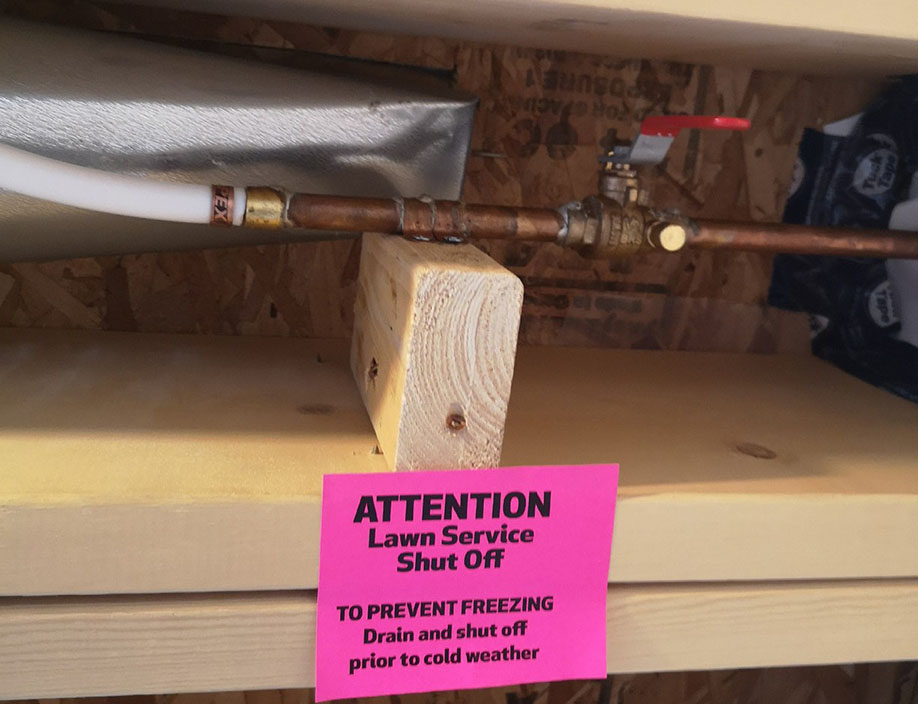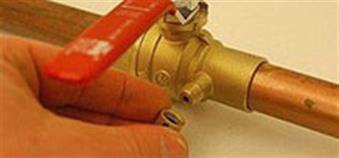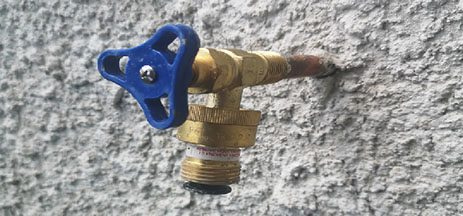 Frozen Water Line
Frozen water lines are common in our climate and should be reported to the City of Winnipeg immediately by calling 311. For information on frozen water lines you can visit the City of Winnipeg's website.
If the frozen pipe is within the City's main line (up to the water box) they will assume all costs. If the frozen pipe is between the water box and the house, the homeowner is responsible. Frozen water lines are warranted by Broadview Homes for 2 years.
Hot Water Tank
Remember to register your hot water within 90 days to take advantage of manufacturer extended warranty.
Drain the hot water tank annually to reduce the buildup of damaging sediment. Instructions on how to safely drain the hot water tank can be found online, or you may consult a professional.
Never attempt to change the temperature of the hot water tank yourself. Temperatures are factory set at 140 degrees Fahrenheit to ensure that water doesn't reach scalding temperatures, and so that bacteria will not form in the tank.
Jetted Tubs
Jetted tubs are supplied by either Hytec or Maxx. Basic jetted tub care and maintenance can be found in the Care and Cleaning section of Hytec by Kohler's website at https://www.hytec.ca/care-and-cleaning.
If at first your jetted tub ejects a film, it is recommended that you fill the tub with a solution of vinegar and water and run the jets for a period. You may need to do this several times before you notice an improvement. This film is the pipes clearing and it will eventually subside. This is not within the builder's control and is not covered by Broadview warranty.
Leaking Faucets
Plumbing faucets and fixtures are covered by Broadview warranty for the first year, and by Moen's Limited Lifetime Warranty thereafter. For more information on care and maintenance, and on Moen's extended warranty, please visit their website at https://www.moen.ca/customer-support/warranty.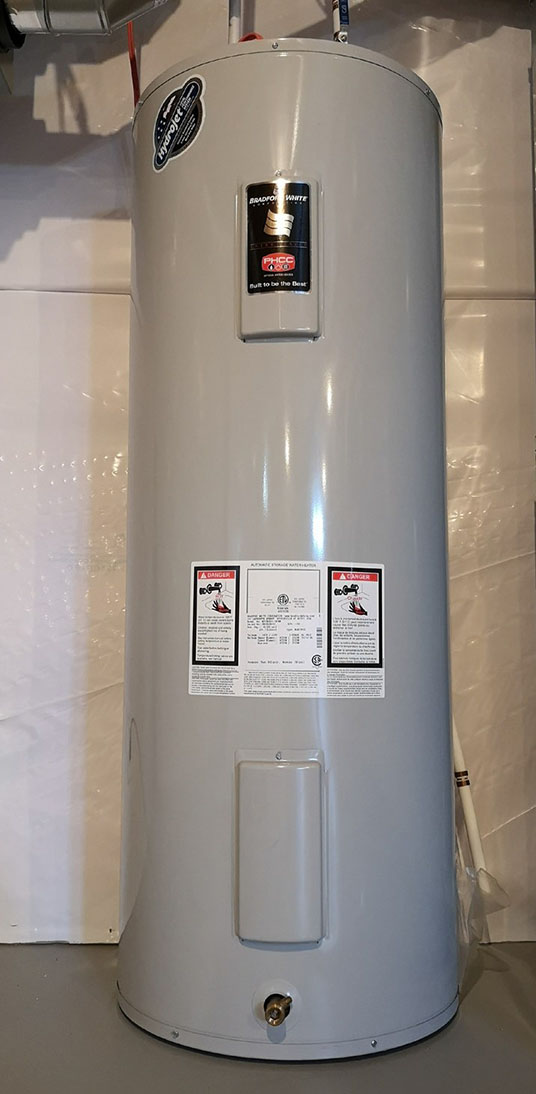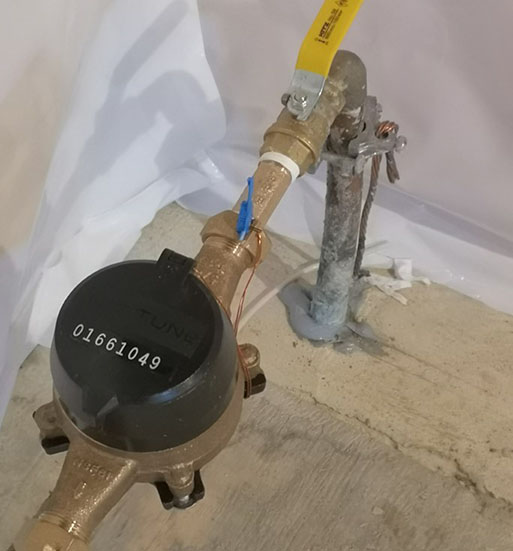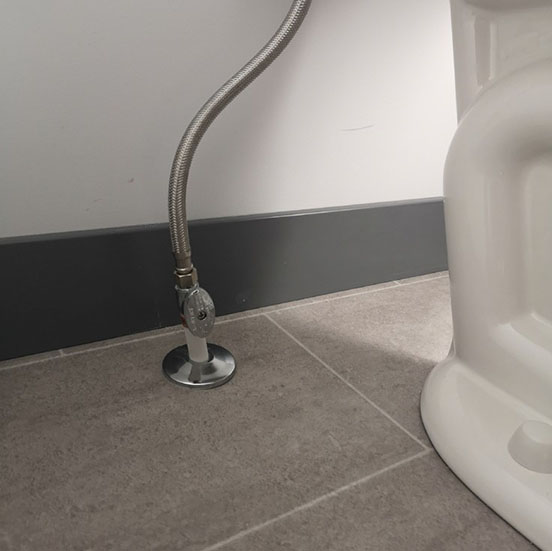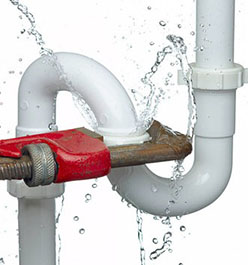 Plumbing Leaks and Shut Offs
Plumbing leaks are warranted for two years, and should immediately be reported to Broadview Warranty.
Some fixtures, such as toilets, dishwasher and fridge water lines, will have a dedicated plumbing supply shutoff that can be turned off until the leak is repaired. If there is no shutoff for the problem area and the leak is substantial, turn off the main water supply at the basement water meter until the leak is repaired.
Plumbing Odors and Water Discoloration
If your home suddenly has a strong smell of sewer in the winter, it is likely that the plumbing stack on your roof has frozen shut. Clear ice and snow away from the stack immediately to allow sewer gas to escape the home.
An odor emitting from faucets and floor drains usually means the p-trap has dried up, allowing gases to travel up the pipe and in to the room. Pour enough water down the drain to fill the p-trap to keep plumbing gas odors from coming through the pipes.
If the odor persists, the sink overflow reservoir may require cleaning. When water in the reservoir dries up it can leave behind an odorous film.
Occasionally the City of Winnipeg water supply will emit an odor, or you will experience water discoloration referred to as 'brown water'. The City of Winnipeg states that these conditions are temporary, and are not harmful.
Plumbing odors and water discoloration are not within the builder's control and are not warranted by Broadview Homes.
Thermodrain Drain Water Heat Recovery System
The drain water heat recovery system is a large copper coil located in the basement that recovers heat from used, outgoing drain water. The recovered heat is used to pre-heat water going to the hot water tank, saving you energy.
Please refer to Thermodrain's website at https://ecoinnovation.ca/thermodrain-residential-resources/homeowner/ for more information on its operation and benefits.